Dear Friend,
I have spent most of my adult life advocating for the rights of women and girls. That is why today, International Women's Day (IWD), is so close to my heart. As long as abuses against women continue, we should devote every day to stamping them out. But IWD is a special day when we can celebrate our achievements and the people behind them, and take stock of what is still left to do.
This year's IWD is particularly poignant to me since this is the 15th anniversary year of the creation of AHA Foundation. In honor of both occasions, I am pleased to present two very special blogs this month.
The first features an interview with AHA Foundation's Chief Financial Officer and Senior Director, Amanda Parker. Amanda has been part of AHA Foundation since the early days and has become one of the foremost figures in the fight against female genital mutilation (FGM) in the U.S. Without people like Amanda, none of AHA Foundation's achievements would have been possible. In the interview, which you can read here, she reflects on 15 years of AHA Foundation, including both the progress and setbacks in the fight to end FGM. I am proud to call her a dear friend.
Our second blog this month features another warrior in the fight to protect women and girls in the U.S. Sasha K. Taylor tells her story of being forced into marriage as a child, how she escaped, and what was born out of her struggles—her passionate activism against child marriage in the U.S. Sasha's bravery and conviction are inspiring to me. Read the first part of her story here (part two to come next month).
For a decade and a half, AHA Foundation has fought for liberty for all. Ending FGM and child marriage are two of our main goals, so it is heartening and appropriate to read, on International Women's Day, the words of two such ardent and courageous advocates so deeply involved in both these crucial fights. I hope you find Amanda and Sasha as impressive as I do, and I hope you continue to support us as we move forward—because we won't rest until these fights are won.
Warmly and with gratitude,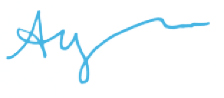 Ayaan Hirsi Ali, Founder
P.S. I can't help but mention the horror I have felt at watching the suffering of Ukrainians at this dark moment, especially the women and children who are fleeing. I have been writing about this crisis for UnHerd; you can read two of my articles here and here.
---