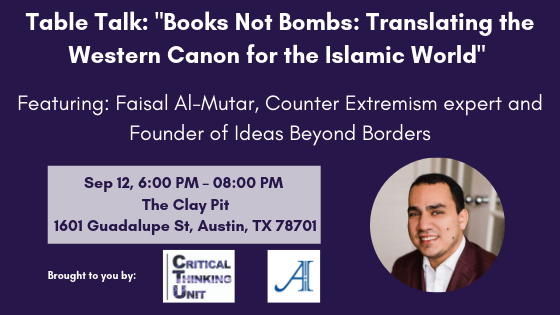 | | |
| --- | --- |
| Date: | September 12, 2019 |
| University: | University of Texas – Austin |
| Time: | 6:00 PM – 8:00 PM |
| Address: | The Clay Pit, 1601 Guadalupe St, Austin, TX 78701, USA |
| Speaker(s): | Faisal Saeed Al-Mutar, Founder and President, Ideas Beyond Borders |
Description: Raised in Baghdad, Faisal Saeed Al Mutar experienced the oppression of extremism and authoritarian regimes firsthand. He survived the Iraq Civil War, the murder of his brother, and several kidnapping attempts before becoming a refugee in the United States in 2013.
​ Faisal founded the non-profit organization Ideas Beyond Borders so that other Arab youth wouldn't have to suffer in the way he and his family did. His mission: to encourage free speech, critical thinking, and humanism by making the Western canon accessible across the region.
A practitioner of counter-extremism on an international scale, he's spoken at conferences and campuses across the globe about his work for the government and as a private citizen to combat extremism. He has founded the organization Ideas Beyond Borders to prevent extremism by empowering people across the globe with access to new ideas and fresh perspectives.
"The secret to a peaceful Middle East can be found in books, not bombs," insists Faisal. Join us for dinner and conversation about Faisal's journey, his work in the Middle East, and how Ideas Beyond Borders is igniting a movement of youth committed to a better future for the region.