Dear AHA Foundation Supporter,
The U.S. government spends millions of dollars trying to stop child marriage abroad, but leaves children at home vulnerable to this dangerous practice. It is legal for a minor with U.S. citizenship to sponsor a visa for a foreign-born spouse or fiancé(e). Read more about this federal loophole that leaves countless children at risk of forced and child marriage in the United States.
Representative Tom Murt has put forward a bill every year since 2013 in attempts to criminalize female genital mutilation (FGM) in Pennsylvania.  Earlier this month, through a bipartisan effort, the House of Representatives voted to pass the bill influenced largly by AHA Foundation's model legislation. Regrettably, time constraints prevented the bill from being voted upon in the Senate. However, AHA Foundation is confident that an anti-FGM bill will be proposed for consideration next spring.
Sheriece Hooks is a Clinical Psychology Psy.D candidate at Pepperdine University. At the Foundation, Sheriece provides support to women and girls who survived or fear they are in danger of honor violence. In her blog, she exposes a gap in mental health education of FGM and honor violence in academia, and calls for leaders in the psychology field to take urgent action.
This month we shared the message of Sherry Johnson, a child marriage survivor and advocate. Sherry wants Americans to know that the child abuse she survived is still ongoing and hurts children across our country. Zero tolerance is the only acceptable solution. Read her story here.
If you agree, please support our work to end dangerous traditional practices in the U.S. In this fight, every gift matters.
With my deepest gratitude for your loyal support,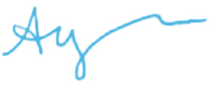 Ayaan Hirsi Ali, Founder