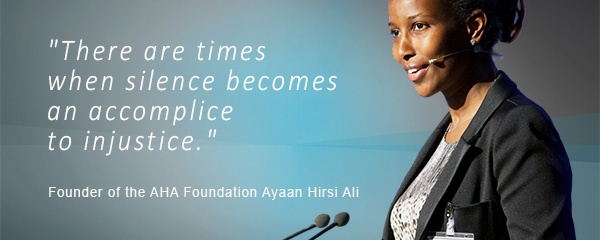 Dear AHA Foundation Supporter,
As it stands, the federal penalty in the U.S. for cutting the genitals of a little girl is sadly minimal at just five years imprisonment. However, the SAFE Act, also known as the Stopping Abusive Female Exploitation Act, would increase the maximum penalty for female genital mutilation (FGM) to imprisonment for 15 years. We are happy to report that just last week, the SAFE Act passed the House of Representatives with unanimous support (409-0)!
I am grateful to Representative Dave Trott (R-MI) for bringing forward this important legislation. The bill now moves to the Senate. With you on our side, the AHA Foundation will continue to support the SAFE Act and similar legislation until FGM is eradicated and all women and girls are protected from this violence.
As we continue to break the silence and celebrate the dignity of survivors and girls at risk, AHA Foundation is honored to introduce you to brave women who come forward to share their stories of persistence and resilience. This month, we spoke with a survivor who reminds us that honor violence and forced marriage are not unknown to the Western world. Yasmine Mohammed miraculously survived an abusive forced marriage with an Al Qaeda member. Read here to find out where she found the strength to escape and create a better life.
As AHA Foundation continues to support women and girls facing violence, we also connect with those who work towards similar ends. Faith Mwangi-Powell, the Global Director of The Girl Generation initiative, believes that FGM can be ended in one generation. Read here how her initiative uses communication to transform beliefs about FGM, one conversation at a time.
These past ten years, the AHA Foundation team has been inspired by brave individuals standing up to live lives of their own choosing despite incredible odds, and professionals who care enough to understand what they are facing, and take steps to support them. We've depended on loyal partners and supporters to be able to do our life-saving work. Today, we are happy to share the experiences of those who have supported us and those whom we've had the honor to support, which you can read here.
If you have not already, I hope you will renew your commitment and support our life-changing and life-saving programs. Your gift can make an enormous difference to women and girls facing abuse, so please consider taking part in the AHA Foundation 10th Anniversary $1 Million Challenge and help fuel our expanded, bold, and forward-thinking mission!
One last piece of exciting news… the AHA Foundation is hiring! We are looking for a self-motivated Marketing and Special Projects Intern. For more information, please check out our posting here and email in your resume or questions to: info@theahafoundation.org.
Happy Holidays,
Ayaan Hirsi Ali
Founder, AHA Foundation