Dear AHA Foundation Supporter,
Imagine you are eight years old and your parents tell you that they have already picked out your future husband. Imagine you are 15, and they tell you that your marriage arrangements have been determined and you have no choice but to follow these orders. Naila Amin lived through that experience. In this interview, she recounts being forced to marry a much older cousin in Pakistan and her harrowing journey to freedom. Read her story and watch her video message to supporters here.
Long-awaited feats and frustrations have left their mark this month on the fight against female genital mutilation (FGM). Three states, Arkansas, Idaho, and Utah, have all successfully banned FGM, bringing the total number of states with anti-FGM legislation to 31.
Unfortunately, this month we also received news that the Department of Justice (DOJ) declined to defend the federal law against FGM in the first prosecution of a FGM practitioner in the U.S. The case was dismissed on constitutional grounds in late 2018. Last week, our Senior Director, Amanda Parker, joined Representative Carolyn Maloney, women's rights advocates, and FGM survivors at a press conference in New York condemning the DOJ decision and calling for ratification of the Equal Rights Amendment. Read here about the press conference.
Dr. Deborah Ottenheimer is a gynecologist practicing in New York City. Her expertise in treating FGM survivors is a rarity in the field of gynecological care. In this blog, she shares how she helps survivors of FGM and why they hesitate to reach out to American doctors.
This month Amanda Parker was featured on Womenace to Society, a podcast series that focuses on visionaries working to reform issues in the United States. Ms. Parker spoke about why we need bipartisan support for anti-FGM legislation and the current state of the fight against FGM. Listen to the podcast here.
You can help protect children from FGM, forced marriage, and other abuses in the United States. Please renew your support and fuel our life-saving work.
We are grateful for your support,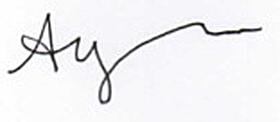 Ayaan Hirsi Ali, Founder