Dear Friend,
Last month, AHA Foundation celebrated its 15th anniversary. 15 years! I can hardly believe that it's been so long.
It feels like only yesterday that I was sitting around a table discussing the need for AHA Foundation with a group of caring, generous friends. Together, with those friends and dedicated individuals like you, we were able to establish AHA Foundation to protect women and girls in the United States.
During those 15 years, we have chalked up some major achievements.
To take just one example of the impact we have made with your support: when I founded AHA Foundation, only 19 states had banned female genital mutilation (FGM). That number has more than doubled: now 40 states ban this abhorrent practice.
Since its inception, AHA Foundation has helped pass 34 bills against FGM, child marriage and domestic violence in 21 states! These, and our many other achievements, are all thanks to your support over the years. I cannot thank you enough.
The fight is not yet over though.
Earlier in 2022, our years-long campaign to ban child marriage in Massachusetts finally succeeded. But this still leaves 43 states, and Washington, D.C., where child marriage is legal. And 10 states, plus D.C., have failed to act to end FGM.
Meanwhile, illiberal ideologies and cancel culture continue to threaten free speech on college campuses and beyond. Islamist extremism remains an existential danger to Western values, as the recent appalling attack on Salman Rushdie has shown.
This is why we have recently revamped our mission to "preserving, protecting, and promoting Western freedoms and ideals."
Western freedoms are at a critical juncture. It is up to each one of us to decide if we will speak up and fight for them or be scared into silence. Each of us can be an activist. Each of us can speak up, loud and clear, when people are shut down or even attacked like Rushdie in the name of authoritarian ideologies.
This is not abstract to me: it is deeply personal.
As I wrote in UnHerd after the attack on Rushdie, I was scared: "If they could get him on American soil, would I be next? … Will I ever be free? Will I ever feel safe? Will my children ever feel safe?" But I realized that giving in to fear was not the answer:
"I was urged to go into hiding and stay silent for my own safety. For a few hours, I let fear rule my life. But still I knew deep down that freedom is a choice — and that I would keep choosing to be free, to speak and write as I please. In this way, in writing this very piece, I defy the Islamists and all others who would silence me.
Like Salman, I will continue to speak. Like Salman, I choose freedom."
Your support has been essential these past 15 years, and my birthday wish is this: I hope you will continue to stand with us. I hope that you too will choose freedom, to be an activist, to speak up and be heard. I hope you will join me as AHA Foundation moves forward into the next 15 years.
And here is one way you can stand with us, right now. Excitingly, one of our generous donors has pledged $50,000 in matching funds for our 15th anniversary year. Imagine what we could accomplish with $100,000! Please give a gift to AHA Foundation to celebrate our big anniversary, and help us unlock $50,000.
Your gift will help us get the next 15 years of preserving, protecting, and promoting Western freedoms and ideals off to a great start.
As ever, thank you so much for all you do. You made the past 15 years possible. I'm sure that you too can't wait to see what the future holds.
With deepest gratitude,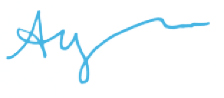 Ayaan Hirsi Ali, Founder
---

---
---