CJUI's President Ray Hanna presenting Ayaan Hirsi Ali with the Genesis Award.
At the end of October, Ayaan Hirsi Ali was honored with the Christians and Jews United for Israel's 11th Annual Genesis Award. This award highlights those who exemplify courageous leadership and an enduring love for Israel.
As a keynote speaker at this event, Ayaan spoke of why she admires Israel, but started her speech by discussing if she even truly deserved this award.
"There was a time when I hated Jews. I was convinced Jews were responsible for everything that went wrong in the world." From childhood, Ayaan was taught to be disgusted by Jews; when she first knowingly encountered a Jewish person, she was surprised to find that they looked like a normal person rather than the monster she had imagined. She was also taught that Christians were lost from the true faith. But it's how her mindset changed when she left her home that made her the perfect candidate for this award.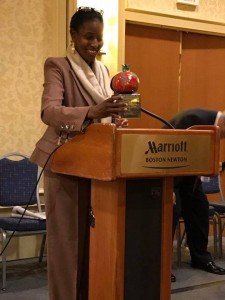 Ayaan shared the three reasons why, in her opinion, Israel is a great nation state, and one of the only successful democracies in the Middle East. Israel chose life over death, liberty over authoritarianism, and chose a healthy attitude toward nationalism and honoring a place of faith.
While commenting on Israel's commendable approach to democracy, she reasoned "with a healthy approach to faith, children would not need to be taught to hate those of another faith for no good reason." This attitude would allow for many other flourishing democracies spreading peace among the region.
Ayaan ended her speech by encouraging the audience members  to look for signs of hope when everything seems dark. "I see people, and leaders who are that hope." There are more and more Muslims who are speaking out in support of Israel.
It's because of Ayaan's vision for a future where everyone, particularly women and girls, are free to live lives of their own choosing, that we are here today. Our supporters make it possible for Ayaan and the AHA Foundation to work to turn Ayaan's vision into a reality.