During several events in New York City last week, Ayaan reflects on her past to fight towards a better the future for women and girls.
The first time this theme was given voice was during the annual Strawberry Festival luncheon for the New-York Historical Society when Ayaan was honored with their Women in Public Life Award. Past honorees include Michelle Obama, Hillary Clinton, and Sen. Kirsten Gillibrand, among other accomplished women. According to the release, Dr. Louise Mirrer, President and CEO of the New-York Historical Society stated, "Ayaan Hirsi Ali has used her voice to become a champion for women and young girls who would have otherwise gone unheard."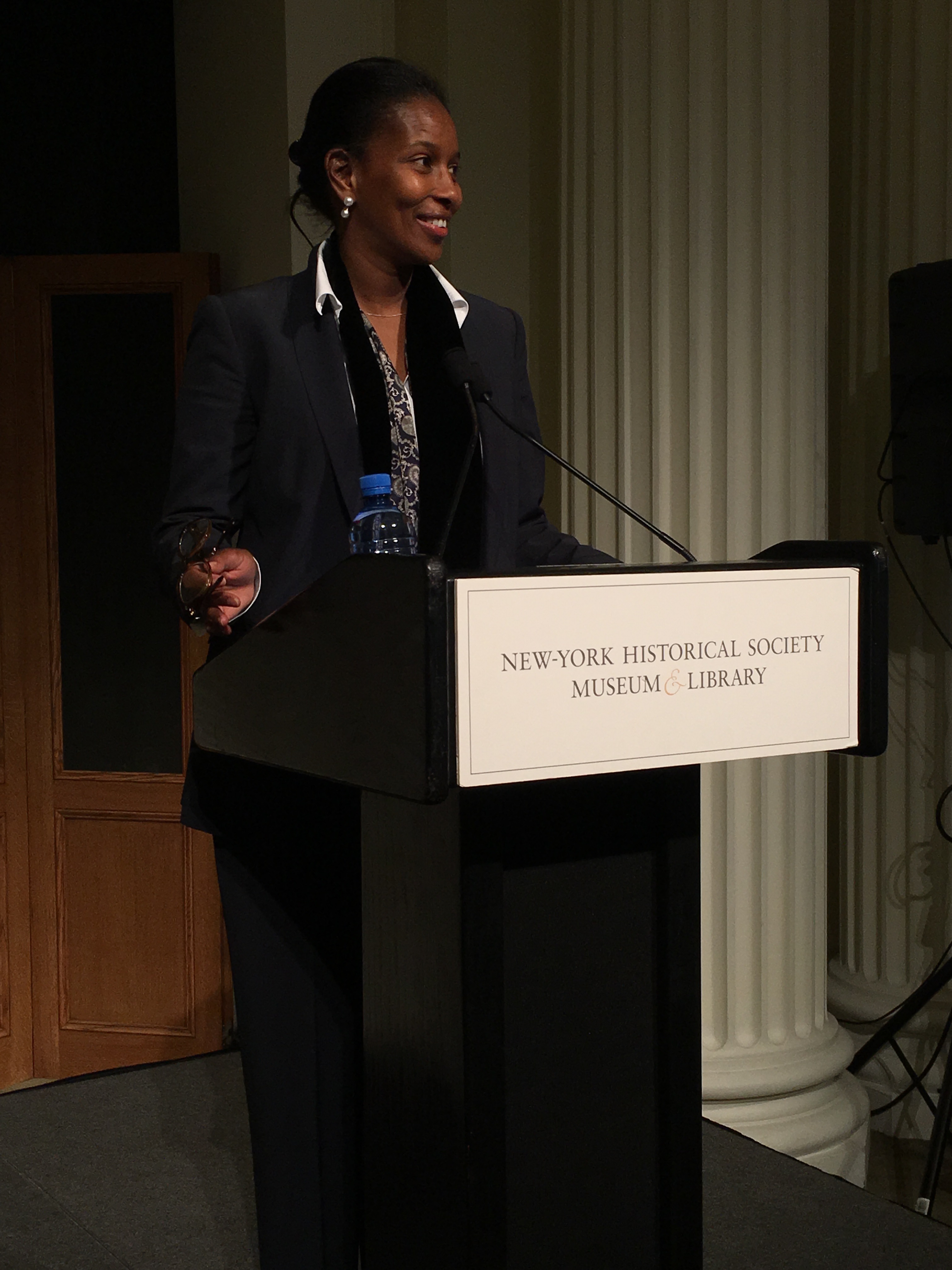 During her remarks, Ayaan spoke of how, although her life now is likely very similar to the women in the audience, her history was quite different. She shared what it was like growing up in Africa and the Middle East under what she calls the "modesty doctrine," where it's thought that women and their bodies hold the power to corrupt men. Because of this, women must be covered from head to foot, and sometimes even kept locked inside their homes, to keep from tempting the men around them. Men are taught that a woman who is uncovered is inviting a physical attack.
Referencing the wave of assaults in Cologne, Germany that took place on New Year's Eve, Ayaan shared her fear that the "modesty doctrine" may have begun to creep into Europe. She spoke of her concern that hard-won civil and human rights may be turned back if those of us in the West are complacent. Ayaan believes that, "culture of misogyny needs to be addressed quickly and frankly and that we must not censor ourselves for fear of empowering the xenophobes among us, and those who wish to deny victims of war a place of refuge." She closed her remarks by saying she was still hopeful in part because, "We have a very different history but we have a shared future." 

Later in the week, Ayaan made her second appearance at the Women in the World conference, billed as "the premiere showcase for women of impact," in New York City's Lincoln Center. Speakers this year included individuals from a wide variety of fields, including Planned Parenthood President Cecile Richards, International Monetary Fund Managing Director Christine Lagarde, Actress Meryl Streep, Former First Lady Laura Bush and Journalist Megyn Kelly.
Ayaan's panel titled, "What is the Future for Women in Islam?" was a heated discussion between Ayaan and her co-panelists, all Muslim-born women. Ayaan used the occasion of the debate to push for equality and the rights of women who have not had the same opportunity she did to emancipate themselves from their oppressive societies. The passionate debate extended beyond the stage, with several of the participants, including Ayaan, continuing their discussion after its conclusion, and ending by embracing each other backstage.
Luckily, you don't have to have been in New York City to see Ayaan in action; the debate is available for viewing here. 
It's because of Ayaan's vision for a future where women and girls are free to live lives of their own choosing that the AHA Foundation was born. But our partnership with you, our supporters, makes it possible to turn Ayaan's vision into a reality – to fight for the rights of the girls and women who suffer from honor violence.