By Amanda Parker, Senior Director of the AHA Foundation
The AHA Foundation has successfully worked with many states to put in place legislation to outlaw female genital mutilation (FGM) where there was none, or to strengthen existing legislation so that girls are better protected from this barbaric form of child abuse. Shocked by a revelation that girls are allegedly being mutilated in their state, Michigan legislators crafted a set of laws that send a strong message that FGM will not be tolerated in their state. Lawmakers passed the bills, which are expected to be signed into law by Governor Snyder. Last month, I testified for the Michigan House of Representatives Committee on Law and Justice urging the representatives to pass the drafted anti-FGM legislation.
At the hands of two physicians in the state of Michigan, it is alleged that young girls were subjected to female genital mutilation (FGM). The ongoing court case involves six girls but prosecutors estimate that a hundred may have been cut by Dr. Nagarwala in the secrecy of Dr. Attar's clinic over the years. The families and physicians involved in the case are all part of the Dawoodi Bohra community, a sect of Islam hailing from India which practices FGM.
Female genital mutilation is a form of violence against women and girls used to control their sexuality, and has been condemned by the international community, including the World Health Organization and the United Nations, as a human rights abuse. In the United States, there is a federal law banning the practice and 25 states have outlawed the procedure.
And for good reason.
According to the criminal complaint filed, the investigators in the Michigan FGM case reported that the first girl's "labia minor [had] been altered or removed, and the clitoral hood [was] also abnormal in appearance." The second reported that she could barely walk following the procedure. The types of injuries inflicted upon these girls, and potentially dozens of others victimized by these physicians, often result in lifelong physical and psychological consequences including shock, blood loss, infection, difficulties with urination and menstruation, and sometimes even death.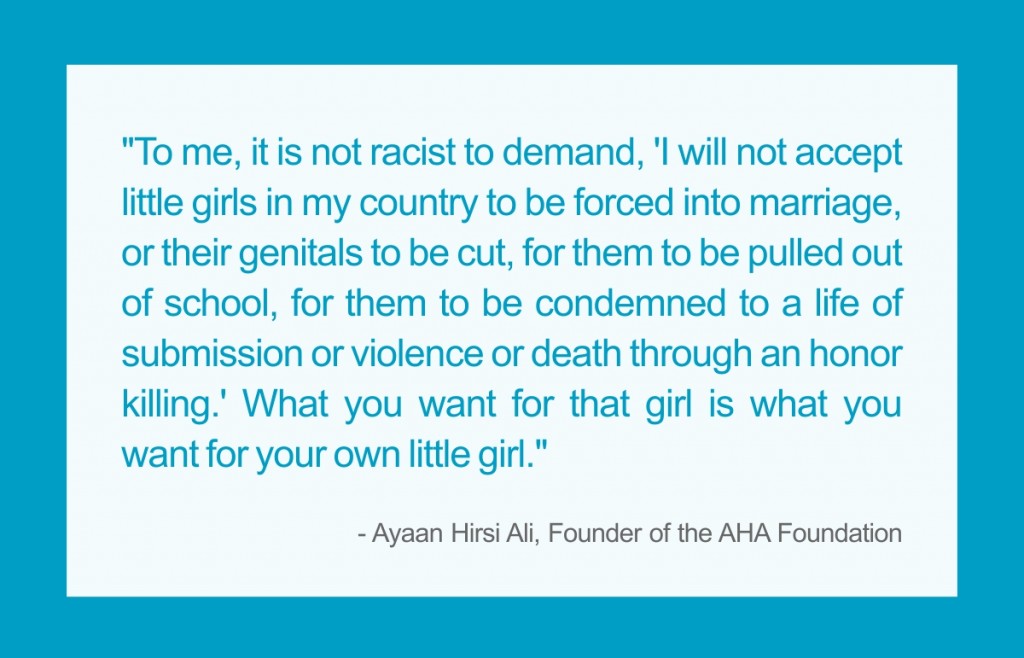 At the AHA Foundation, in addition to raising awareness about female genital mutilation and other forms of honor violence, we take active steps to end these practices on U.S. soil. The media surrounding the Michigan case presented the perfect opportunity to further the work of legislators in the state who, newly aware and appropriately horrified that this was happening in their state, are eager to enact legislation to address FGM in the state of Michigan.
I was connected with Representative Stephanie Chang by Dr. Mohammed Arsiwala, a physician in Michigan, and an activist speaking out against the procedure. Rep. Chang was working with a bipartisan team of legislators in Michigan, including Rep. Michele Hoitinga, to put in place not just a law criminalizing the procedure but instead going further to draft thoughtful legislation. In addition to sending a strong message that FGM is not acceptable in the state of Michigan, this legislation would also help prevent girls from being cut with outreach and education to at-risk communities, and would give survivors the time and tools they need to protect and advocate for themselves in a court of law.
From the early planning stage this April, I was pleased to be able to provide research, answer questions and make suggestions on strong aspects of FGM legislation that have been introduced across the country that should also be included in the bills to be introduced in Michigan. The resulting bills that Rep. Chang and her colleagues introduced is a comprehensive set of legislation that does just what they set out to accomplish. When signed into law, it will make Michigan a safer place to be a little girl.
Last month, when this legislation was brought before the Michigan House of Representatives Committee on Law and Justice, I was honored to take the opportunity to stand up and voice my support for the nine bills and an accompanying resolution that had been introduced, by testifying via video conferencing software before the committee.
At the AHA Foundation, we believe it is our duty and our privilege to give voice to the voiceless. Girls who are subjected to genital mutilation are often among the most vulnerable in a community, typically too young to understand what is happening to them let alone seek help before they are cut. They are being harmed by those people they trust the most. This is unacceptable.
As important as raising awareness about female genital mutilation and the fact that it is happening in the U.S. is, more must be done to end this practice here. It is critical that a proper infrastructure is in place to both protect girls from being subjected to FGM and to support survivors after they have been cut. Legislation such as the bills introduced in Michigan can go far in accomplishing these goals. That's why, at the AHA Foundation, we are working to urge lawmakers in the remaining 25 states without FGM legislation to enact it, and for those states where there is existing legislation, to strengthen it where necessary.
I'm thrilled to report that both the Michigan House of Representatives and Senate recently passed the comprehensive set of bills that were introduced under Rep. Chang's leadership; I have high hopes that Governor Snyder will sign them without delay. It seems that soon we'll be removing Michigan from the list of states that lack FGM legislation and instead will use it as a model of what a state can do to protect its citizens.
This fight is far from over, though; 25 states still do not specifically ban this horrific procedure. Your voice is needed today to change that. If your state is among those that does not protect little girls from female genital mutilation, please join us in giving them a voice. Ask your state legislators to enact legislation today that would help end FGM in the United States.