Honor violence training can mean the difference between life and death.
Without a doubt, the number one question received by AHA Foundation staffers when talking about honor violence in the United States is, "That happens here?" This question comes not just from our friends and supporters, but also from law enforcement,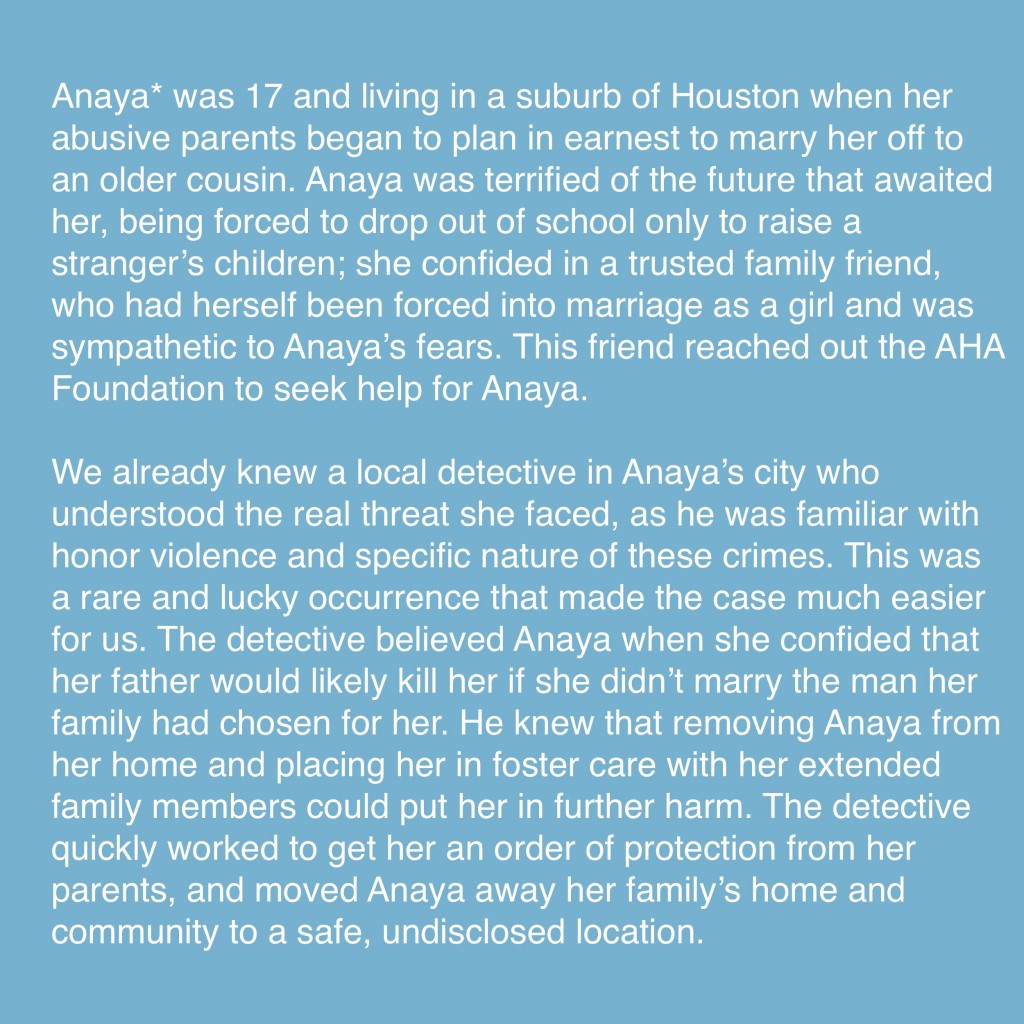 domestic violence professionals, educators, and other individuals who are on the front lines of the fight to protect girls and women in the US from violence and abuse.
Awareness about the specific nature of honor violence crimes and how they differ from domestic violence is still very low among service providers in the US. That is why training professionals how to identify and correctly handle cases of honor violence can mean the difference between freedom and a lifetime of rape and servitude in a forced marriage, or even the difference between life and death, for a girl facing honor violence.[tweetthis remove_twitter_handles="true"]Training professionals how to handle honor violence can be the difference between life and death for a girl in crisis[/tweetthis] And it's why the training of individuals likely to encounter victims of honor violence is a major priority at the AHA Foundation; more than a thousand service providers have already completed the Foundation's training course.
On December 15th, the Foundation continues that work with a free, online webinar aimed at child protective professionals, law enforcement, educators, prosecutors, and others who may encounter women and girls at risk of honor violence. Leading the training will be Naila Amin, a survivor of and advocate against honor violence and forced marriage. This 90-minute seminar is an interactive, ideologically-neutral primer on forced marriage and honor violence. It draws on real cases and provides practical guidelines for identifying and addressing these issues.
Honor Violence and Forced Marriage: A Training Curriculum for Law Enforcement, Educators, Domestic Violence and Child Protective Professionals
Date: December 15th at 2 PM ET

Webinar Registration (click here)
If you are a professional who would benefit from this free seminar, please register today. We also invite you to share the invitation with anyone in your network who may encounter victims of honor violence or forced marriage.
Training professionals likely to encounter victims of honor violence is one example of programs your support makes possible. Please renew your support today to empower the AHA Foundation to continue its life-saving work. Your gift today goes twice as far in protecting women and girls thanks to the Eric Schmidt Challenge.
Together, we can ensure that every girl who faces the threat of honor violence can be protected and given a chance to choose her own life, just like Anaya. To achieve that, we need honor violence trainings for service providers to become the norm.
*Identifying details changed