Kentucky recently became the 38th state to pass comprehensive legislation against female genital mutilation (FGM)!  More than 1,845 girls and women at risk of FGM in Kentucky now have a law to help protect them from this abuse!
This victory was spearheaded by Jenny, a brave FGM survivor from Kentucky, and we consider this her law—"Jenny's Law." Support from people like you made Jenny's Law possible. When she approached AHA Foundation to share her story, Jenny had one major goal: ban FGM in Kentucky. She came forward because she feared her family members would force her daughters to undergo this horrific practice. She wanted to ensure that a strong law was put in place, so no one ever had to endure the pain she did. Read her story here.
Our team made five trips to Kentucky over the past year to assist Jenny and state legislators in passing this bill. Based on our research and experience with anti-FGM bills in other states, we advised Kentucky legislators how to develop a bill that not only criminalizes FGM in the commonwealth, but also empowers survivors to stand up for themselves in a court of law and provides education and outreach programs for impacted communities and professionals, and much more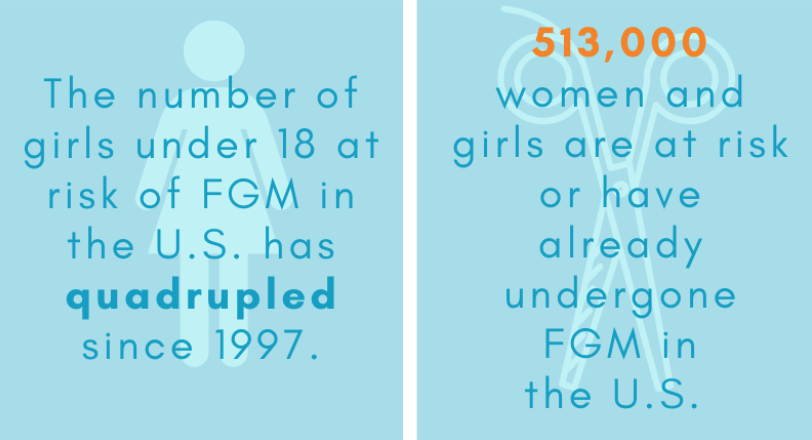 To increase awareness about this issue, Jenny, the bill sponsor, Senator Julie Raque Adams, and I co-wrote an op-ed in the Louisville Courier. The op-ed was widely read and brought much-needed local attention to the issue after it was published. Read it here.
Jenny's bravery and courage to speak out about this practice and how it has impacted her is what made this law possible. Her first-person testimony shed a light on the reality that FGM happens in the U.S. and compelled the legislators to take immediate action; we will forever be grateful to her for refusing to stay silent.
We are privileged to work with Jenny and other survivors to make a difference for women and girls.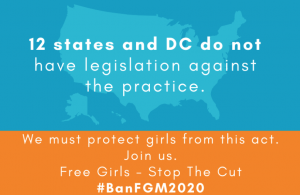 Kentucky is the third state to pass anti-FGM legislation this year. Twelve states and the District of Columbia must still act
to protect their girls from this child abuse. Our next target state is Massachusetts. We are working with a coalition of organizations to protect girls in the commonwealth and want to see this bill passed in 2020. If you are a Massachusetts resident, please reach out to your legislators using this link, and demand protections are solidified for women and girls with a strong anti-FGM law.