FGM in the US
Female Genital Mutilation (FGM) is a practice the AHA Foundation has advocated against with determination and resolve since its inception. As FGM is often practiced on girls ages 4-14, before they have a developed understanding of the practice itself, they are oftentimes inadequately prepared to protect themselves against the practice and defend their own human rights. With an estimated 513,000 women and girls at risk in the US alone, there is a desperate need for social change. However, social change often follows policy change, and eliminating FGM requires monumental policy changes that provide legal protection to survivors and girls at risk.
Massachusetts Legislators Unfamiliar with FGM in Their Country a Major Hurdle to Passing the FGM Bill in the State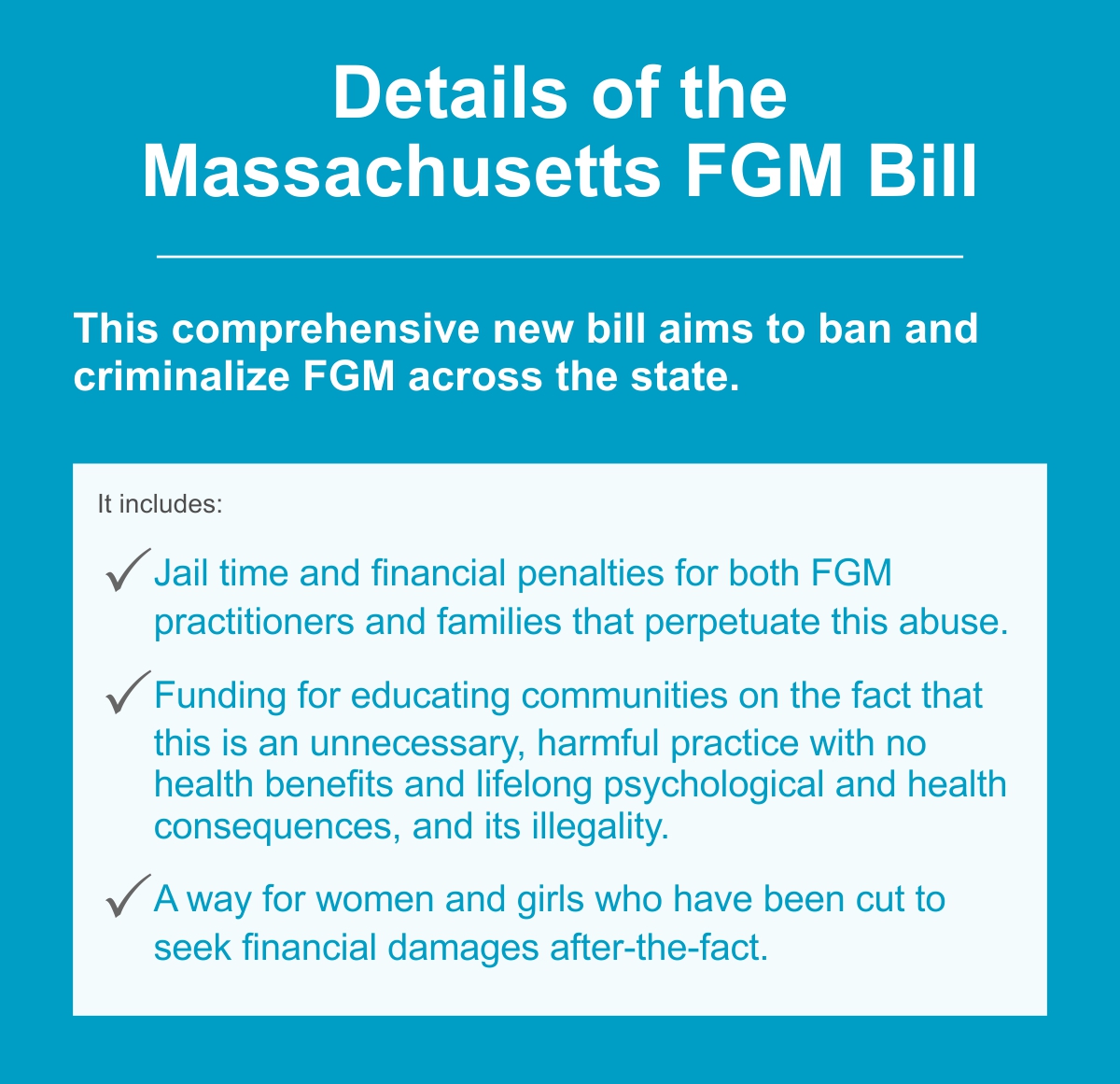 FGM is internationally recognized as a violation of human rights and blatant form of discrimination specifically targeting women. In 2012, the UN made a "unanimous" resolution seeking a worldwide ban on FGM, which requires establishing and strengthening laws which address the abuse among member states.
Unfortunately, the US is quite far behind in passing FGM legislation nationwide.
Today, although there is a federal law banning the practice, only 24 states have laws in place that deem FGM a crime. Despite the dubious distinction of being one of the top 15 states in the US for women and girls at risk, Massachusetts is one of those states without FGM legislation. However, there is currently a bill in motion which would tackle FGM throughout the Commonwealth.
After four years of efforts, the FGM bill in Massachusetts is gaining momentum again, but there is still much work to be done. You can help push forward this legislation that protects women and girls from FGM.
Women's Bar Association of Massachusetts Leading the Way
Leading the four-year efforts to criminalize FGM in the commonwealth is the Women's Bar Association (WBA) of Massachusetts. Last session, when the WBA tried to advance similar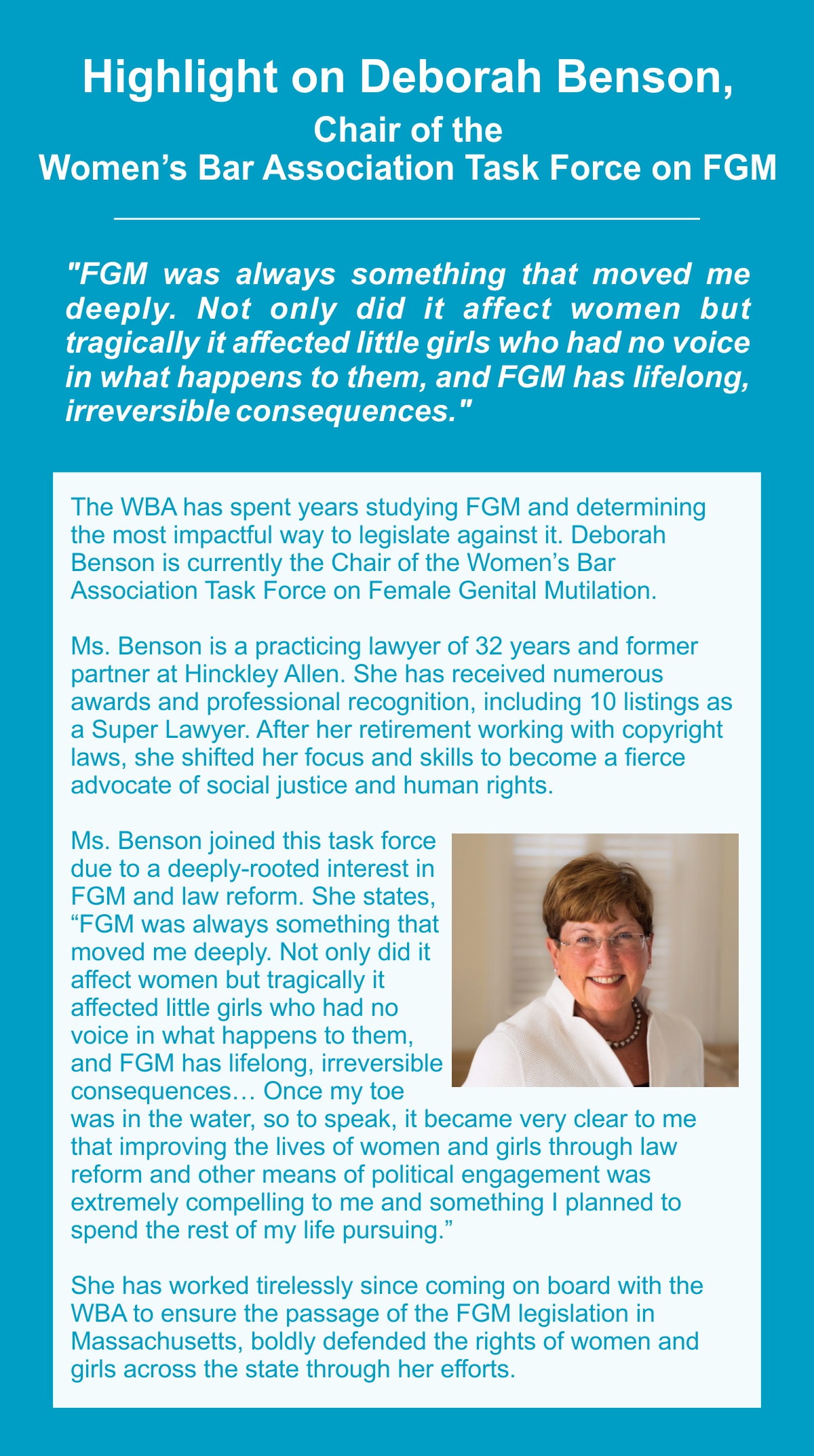 FGM legislation, they found that in addition to the more traditional challenges of passing a bill, lawyers and advocates quickly realized an unanticipated hurdle: many, if not most, legislators were unfamiliar with FGM and that it occurs in the US. Despite determined advocacy by the WBA and other stakeholders, the initial vote of the judiciary committee was a huge let down: only certain components of the bill were moved forward, stripping the bill of its teeth. There were no longer criminal penalties associated with this harmful practice.
Condemning FGM as a form of gender-based violence and ensuring lawmakers recognize that girls in Massachusetts are indeed at risk was a key step in setting the stage for another chance at meaningful legislation. In July 2016, thanks to the leadership of Representative Gloria Fox and Senator Harriette Chandler, a new resolution doing just that was adopted by both the Massachusetts House and Senate with bipartisan support.
At the close of the House co-sponsor period in January this year, this bill was co-sponsored by a record 78 members, reflecting an increase of 50% over the last session between both Republicans and Democrats. In addition, the Caucus of Women Legislators declared the FMG bill would be a priority of the Caucus this session.
Each step of the way, the AHA Foundation has lent our support whenever possible, from providing initial research and our draft FGM legislation to the WBA task force, to reaching out to our contacts to elicit legislative support, to sharing with you, our partners in this fight, the chance to get involved.
The FGM bill in Massachusetts is quickly gaining momentum, but there is still much work to be done. You can help push forward this legislation that protects women and girls from FGM.  
Take Action and Get Involved
Passing a bill is undoubtedly no easy task. It requires many months of work and collaboration between lawyers, politicians, advocates, and survivors. When asked what it takes to make a bill successful, Deborah Benson, Chair of the WBA Task Force on FGM claimed "One needs passion, a plan and people to collaborate with."
Sometimes it may feel as if any action you may take at home will be too small, but every voice can make a monumental difference. Here are a few things you can do to get involved and help move this bill forward to protect girls at risk of FGM in Massachusetts.
Together, we can help advance legislation that would criminalize the practice of FGM and provide justice for those who have themselves experienced injustice.
Contact Your State Legislators
In order to move this bill forward, we urge Massachusetts residents to contact your Massachusetts state senator and request they co-sponsor this bill. Contact all your state representatives to share your support for this legislation and urge them to pass it without delay. You can view our sample letter here and find your state legislators here. The more voices we have defending this bill, the more your representatives will realize its tremendous importance.
Tell Your Friends
Raising awareness about this proposed legislation is a key factor in advancing these bills. Let your friends know what they can do to help, raise awareness within your community of the importance of FGM legislation, and share this article on social media.  
Local Populations Should Speak Up
A key factor in passing the Massachusetts FGM bill is demonstrating that local populations are directly affected by FGM. This typically means survivors of FGM telling their story, even if anonymously. If you have ever undergone or have personal experience working with someone in Massachusetts who has undergone or is at risk of FGM and feel comfortable and safe speaking out, we urge you to step forward and tell your story. Highlighting the fact that FGM impacts residents of Massachusetts demonstrates for representatives the urgency and legitimacy behind this bill.
Learning From Success Stories
Anti-FGM legislation has been enacted in a number of states across the country. If you took action to help a bill pass in your state, let everyone know what actions you took to move it forward. By learning from others' experiences, we can do more to move these bills forward and make a positive change in the lives of women and girls at risk. If you are not a resident of Massachusetts and your state has not yet passed the FGM bill, we encourage you to learn about lessons from these testimonies and from Massachusetts advocates and use them to advance the fight for the FGM bill in your state.
Legislation against FGM is an important part of the fight to make the US a safer place for all women and girls, but it won't be enacted without fierce advocates and supporters. We are proud to play a role in this battle, and are excited to see such momentum happening around this bill. Please take action today to help ensure that FGM is criminalized in Massachusetts.