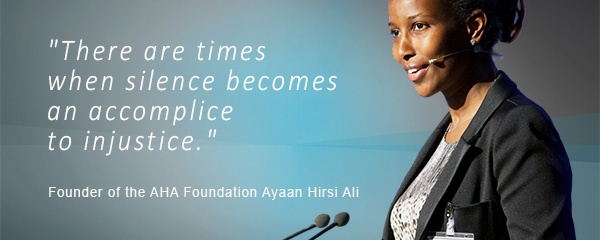 Dear AHA Foundation Supporter,
Thanks to your ongoing support, every year AHA Foundation answers dozens of requests for help from survivors and girls at risk of dangerous traditional practices. Behind each request for help is a hidden world of emotional pain and struggle. This is the world Namele Gutierrez, a therapist at the AHA Foundation, is entrusted to enter. In her blog, Namele shares about guiding her clients on their journeys to peace and freedom. Read her blog here.
During the month of April, the Critical Thinking Unit hosted lectures by a Yemeni-Swiss professor and Muslim reformer, Dr. Elham Manea, on four campuses across the U.S. Radicalized as a teenager, Dr. Manea shares her personal experience to expose dangerous ways Islamists target women and men around the world. Read more about her story here.
Also this month, the New Hampshire Senate passed on consent a bill that would criminalize FGM in the state. The House then concurred and the bill will soon reach the Governor's desk, who is expected to sign the bill into law. This will make New Hampshire the 27th state to ban FGM and send the strong message that this harmful cultural practice is not acceptable.
As we continue to counsel survivors and people at risk, advise legislators, and connect reformers across the nation, we thank each of you – our supporters – for making this life-saving work possible!
Warm regards,

Ayaan Hirsi Ali
Founder, AHA Foundation