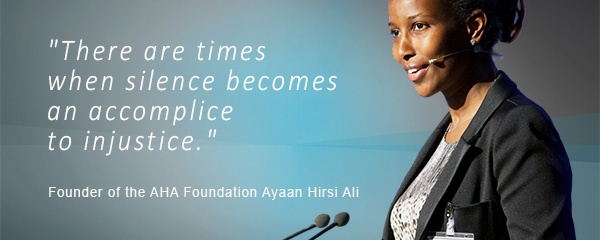 Dear AHA Foundation Supporter,
Happy New Year! As we enter 2018, we look back with a grateful heart for all your support throughout 2017. We sincerely appreciate all those who graciously gave donations last year. We are honored to have your financial support to continue working to protect the liberties of all people from honor violence, forced marriage, and female genital mutilation (FGM).
2017 was a special year for us at the AHA Foundation as we began to celebrate our 10th Anniversary. At a recent event with supporters, I spoke about what this milestone means to me and my Foundation. You can watch the video of my speech here.
We hope to make 2018 as successful as the last ten years have been. We are hitting the ground running helping initiate, support, or improve legislation against female genital mutilation and child and forced marriage in several states. At a press conference earlier this week, Representative Murt from Pennsylvania pushed for his anti-female genital mutilation bill, HB 413, to be passed through the Judiciary Committee.
Thanks to your support, AHA Foundation was there urging legislators to support the bill. F. A. Cole, a survivor of FGM and activist, was also there sharing her appalling experience of undergoing FGM at the age of 11 and further inspiring legislators to push for action to better protect girls at risk from FGM on American soil. Watch a video that includes speech by F.A. Cole here.
In an interview with Fraidy Reiss, Founder and Executive Director of our sister organization, Unchained At Last, Fraidy explains how she fought for and won freedom from the marriage she was forced into. Driven by that experience, she launched an organization dedicated to helping women and girls leave or avoid forced marriages and rebuild their lives.
As we reflect on the past year, we also invite you to revisit our top blog posts of 2017. These blogs highlight the powerful and resilient voices of survivors, our close work with legislators, and our Critical Thinking Fellowship (CTF) Campus Program.
After two years of working with the AHA Foundation, our intern, Bree Dyer, is leaving for another work opportunity. We will miss her dedication and social media savvy, and are excited for new opportunities awaiting Bree. In this blog, Bree shares about her experience of working with AHA's team.
With bills fighting child marriage gaining momentum across several states and an upcoming female genital mutilation trial in Detroit, Michigan, this year promises to be a critical one in the fight for girls' and women's rights in the U.S. With you on our side, we are looking forward to making 2018 a year of tremendous impact.
Sincerely,
Ayaan Hirsi Ali
Founder, AHA Foundation