In 2007, when the AHA Foundation was formed, only 18 U.S. states had legislation banning female genital mutilation (FGM). Though FGM was banned by federal law in 1996, it was still legal to take a girl out of the country to perform the procedure, and the number of women and girls at risk had not been federally surveyed for nearly a decade.
Today, the number of states with anti-FGM legislation sits at 24, with two new states, Massachusetts and Pennsylvania, poised to follow. In January 2013, after extensive joint advocacy efforts from Representative Joseph Crowley and the AHA Foundation, a 'Transport for Female Genital Mutilation' provision was signed by President Obama, making it illegal to knowingly take a girl abroad for the purpose of performing FGM. Thanks to the work of activist Jaha Dukureh and Equality Now, supported by the AHA Foundation, a 2014 Change.org petition resulted in a commitment by the Obama administration to commission a report on the number of women and girls at risk in the U.S.
Even with so much progress, the work left to do is great and urgently needed.
There are 26 states that still do not recognize FGM as a crime. Six of these states are among those with the highest numbers of women and girls at risk from FGM in the US – with over 10,000 girls at risk in each state. Even with a federal ban in place, the importance of state bans cannot be underestimated: not only do they provide prosecutors with a state statute to use in FGM cases and send a strong message on the issue, but they also have the potential to fill gaps in federal laws. The pending bill in Massachusetts is one example of how state laws can mandate education, prevention, and outreach programs, and expand service for survivors.
With so much left to accomplish, turning the tide on FGM can seem a daunting task. But our experience in advocacy has taught us that when we work together, we can bring change. Each supporter's voice is an important step toward criminalizing FGM in a new state.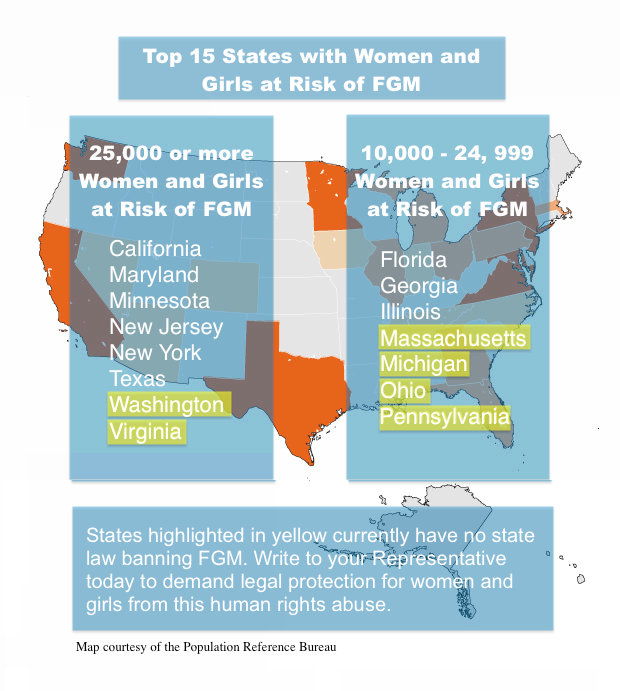 And each victory means more girls are protected from this gruesome practice. Add your voice to the fight now.
As elementary as it may seem, raising awareness about FGM is a key first step in the fight to protect girls in the US against FGM. And it is one that anyone can help accomplish. For many Americans, there is an assumption that FGM happens only in far-off countries, to people who are statistics or images on the news as opposed to neighbours, colleagues, and classmates. At the AHA Foundation's 2013 conference, Ayaan Hirsi Ali explained that, "most Americans—who cherish safety for children and freedom for adults—are unfamiliar with tragic consequences of a warped regard for honor and purity. They need to be alerted to discover, criminalize, and put an end to these cruel practices."
State and federal laws provide an important starting point for those seeking protection and send a strong message that FGM is not tolerated in the U.S. The states of Massachusetts and Pennsylvania are currently considering legislation to ban FGM. For supporters living in Massachusetts and Pennsylvania: the time for change is now. Add your voice, and tell your State Representatives that this human rights violation must end.
Even with legislation banning the practice, doctors, teachers, and others who may encounter FGM must fight an uphill battle in finding the resources they need to properly deal with it. This February, U.S. Representatives Joseph Crowley (D-NY-14) and Sheila Jackson Lee (D-TX-18) introduced the Zero Tolerance for FGM Act (H.R.783). If passed, the bill would mandate public awareness campaigning, and increased services for those at risk of FGM as well as those who encounter minors at risk. In a statement to the press, Rep. Crowley, a long-time champion of women's and girls' rights, explained that, "FGM isn't an issue that only affects the far corners of the globe – it is a terrifying practice being faced by girls right here on our own soil."
You can make a difference in the push to educate the US public about FGM and protect girls from undergoing this horrific practice. Write to your U.S. Representative today and express your support for the Zero Tolerance for FGM Act (H.R.783).
By working together, spreading the word about FGM and raising our voices to say, "enough", we can make it clear that this form of abuse is unacceptable, and that we will no longer stand by in silence.