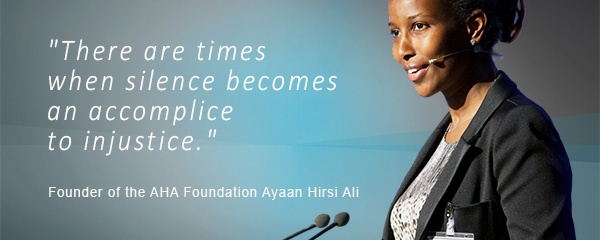 Dear AHA Foundation Supporter,
This month we are celebrating a victory in New Jersey! We provided written testimony for committee hearings in both the New Jersey General Assembly and their Senate to support legislation that sets the minimum age for marriage at 18 with no exceptions. Last week, Governor Phil Murphy signed this bill into law. We applaud his leadership in protecting minors from the dangers of child marriage in New Jersey.
This past month I appeared on two podcasts to raise awareness about harmful cultural practices in the U.S. In my podcast with The Femsplainers, I get personal with two of my lifelong friends. We touch on my journey to the United States, political correctness, and female genital mutilation (FGM). Alongside another FGM survivor, I also appeared on a moderated podcast hosted by the Hoover Institution. We focused on how, despite mass condemnation on both federal and international levels, FGM remains rampant globally.
Fighting against deeply entrenched cultural practices is an uphill battle. In this fight, every voice matters: supporters like you, who help empower our advocacy and trainings, and survivors like Assita Kanko, who keep reminding us that practices such as FGM are means of oppression and dominance over women. Assista is a politician and journalist living in Belgium; she survived FGM when she was five years old. Read her story here.
Part of my mission to break the silence and protect liberty for all includes working with students through our campus program, Critical Thinking Fellowship (CTF). Our dedicated fellows work tirelessly to bring intellectuals, activists, and Muslim reformers to speak at their campuses. Madeleine Hubbard, our fellow at the University of Illinois, Urbana-Champaign, wrote about her experience as a CTF fellow, sharing why she got involved and how she hopes to impact her campus. Read here about Madeleine's year as a CTF campus fellow.
We are happy to share that our fellow Natalie Bao Tram Le, from Harvard University, recently received an award from the Foundation for IndividualRights in Education (FIRE). Natalie won third place for the "Let Them Speak" Campaign, which "challenged students to take proactive and reactive steps to protect free speech for everyone on campus."
Thank you for your loyal support that makes our impact possible.
Ayaan Hirsi Ali, Founder