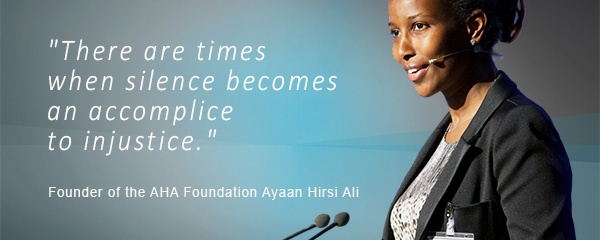 Dear AHA Foundation Supporter,
In our work to fight extremism, we collaborate with reform-minded ex-Muslims and Muslims, people like Muhammad Fraser-Rahim. Shaken up by the violent conflict he saw while volunteering at a UN refugee camp in Sierra Leone, Muhammad devoted his career to understanding the roots of extremism and countering terrorism. To challenge extremism and radicalization, we need to engage all levels of society. You can help – read and share this blog on social media, send us your comments, and help involve more people in the discussion.
Earlier this month, while speaking about FGM worldwide, U.N. Secretary-General Antonio Guterres warned that without concerted, accelerated action, a further 68 million girls could be subjected to this harmful practice by 2030. Accelerated action against FGM is also urgently needed in the U.S. The AHA Foundation is hard at work demanding legislative protection. Alex Still, my Research Assistant at Hoover Institution, educates legislators around the country about FGM in the U.S. Read here about her experience educating hundreds of legislators.
Thanks to your support, the AHA Foundation Campus Program, the Critical Thinking Unit (CTU), was launched just a few months ago and is already shedding light on human rights and freedoms in the U.S. through events on campuses across the country. In an interview with CTU fellow, Grace Roebuck, she speaks about events she organized at her university, Vassar College.
If you have missed my article about freedom of speech on U.S. campuses, you can read it here.
Thank you for your continued support,
Sincerely,
Ayaan Hirsi Ali
Founder, AHA Foundation