Published 11/7/2022
Growing up in Chad, Bayor Chantal Ngoltoingar had a happy childhood—until the day she was forced to undergo female genital mutilation (FGM). After years of suffering in silence, she now tells her story of how FGM affected her and, later, her own child. She hopes her story will help protect girls at risk and move to action those who can stop the practice in the U.S. and abroad.  
Bayor refused to be silenced, and we are proud to amplify her voice. We hope you can help too.
*The opinions of Bayor Chantal Ngoltoingar don't necessarily reflect those of AHA Foundation*
---
AHA Foundation: Thank you for speaking with us today, Bayor. Could you begin by telling us about your background—what was it like growing up in Chad?
Bayor: I was born in N'djamena, Chad's capital, to a family of seven children—four girls and three boys. My childhood was disrupted by the civil war of 1979. My family and I were forced to flee our home and take refuge in the south of the country. 
I was happy until I was 11 years old. It was at that age I was cut.
AHA Foundation: If you feel comfortable, could you tell us about your experience of being cut when you were 11? 
Bayor: I was at my maternal aunt's. She said she was going to take me and other cousins ​​to a camp for young girls where we learn to be women. We were going to learn how to cook and sing and dance—it sounded so fun! But once we were there, all those beautiful promises turned out to be lies and the horrible, cruel truth came out: we were there to be cut. According to my aunt, this was tradition, and we had no choice but to be mutilated. 
AHA Foundation: What effects did being cut have on you?
Bayor: After being cut, I completely changed. At first, the pain I went through terrified me. Then my lips were taped shut: I was threatened by the people at the camp who had cut me to keep quiet about what had happened, even though from the bottom of my heart I desperately wanted to talk about it with my mother, who didn't know what had happened and who hadn't herself been cut as a girl. I wanted to ask her why she hadn't protected me, why she had let this horrible thing happen to me. But unfortunately, I was too scared to say anything. On top of being mutilated, I was silenced.
"FGM has been so wrapped up in the dogma of tradition that it is not easy to stop. Anyone who seeks to end it is considered an enemy and war is thus declared against them."
AHA Foundation: For what reasons were you cut? And could you tell us about FGM as practiced in Chad?
Bayor: Why was I cut? Honestly, I wish I knew! Maybe, fundamentally, because I was a girl. And in my culture, girls are mere objects to be used by parents and future husbands.
All religions practice FGM in Chad, they say it is their tradition. FGM is practised by almost every community in Chad. There are some exceptions but most ethnic groups cut their daughters. The procedure varies according to cultures and regions and religion. The ritual lasts longer among animists and is accompanied by celebrations such as dancing and singing and the final ceremony is more public and brings together the whole village. On the other hand, among Muslims, the procedure is less public. It only lasts a few days to a week and happens more with the family. Girls do not sing or dance in public.
FGM has been so wrapped up in the dogma of tradition that it is not easy to stop. Anyone who seeks to end it is considered an enemy and war is thus declared against them.
AHA Foundation: When, why, and how did you immigrate from Chad? 
Bayor: I left Chad in 2015 after the death of my daughter Amalia. She died aged 12, and all because of birth complications caused by FGM. My vagina had been destroyed during the excision and the midwives did not have adequate training to deal with the high risk posed to my unborn baby. I needed urgent attention at childbirth. My daughter went without oxygen for a long time while I had placenta previa [a condition that increases risk of maternal and neonatal mortality]. She survived, but she was born disabled.
She lived for 12 years without speaking or walking and suffered a lot. In Chad we do not have modern conditions for good healthcare. 
It is still hard for me to talk about Amalia. I grieved long and hard after her death and decided I wanted to leave Chad. I wanted to leave all the pain I had suffered far behind. So I moved to the U.S. to start afresh.
"…if I did die, at least they wouldn't be able to kill my book, and my story about the horrors of FGM might reach other girls, and empower them to escape it."
AHA Foundation: That is a harrowing story, Bayor. We are so sorry for your loss. But you moved forward with great strength and eventually published a book about your experiences in French. What gave you the strength to finally speak out and tell people your story? 
Bayor: Writing this book was first and foremost a form of therapy for me. When I was 11, I was made to believe that telling the secret about my mutilation would mean certain death. But since they only told me not to talk about it, I figured that writing about it didn't count! And then, if I did die, at least they wouldn't be able to kill a book, and my story about the horrors of FGM might reach other girls, and empower them to escape it. Or, it might give other survivors the courage to speak up. 
When my book L'obscurité sous le Soleil (Darkness Under the Sun) was published in 2016, I obviously didn't die! So, I decided to also start speaking and making videos on YouTube. I'm still alive, and my voice is no longer silenced.
Bayor Refuses To Be Silenced—She Speaks Her Truth for StoryCenter and Sahiyo
AHA Foundation: You were at one of AHA Foundation's anti-FGM trainings in Washington, D.C. in June. Why is it important to raise awareness about FGM in the U.S.? 
Bayor: Yes, that was a very informative event. I am still settling into the U.S., but I decided to use my voice to help immigrants respect the laws of this host country.
It's so important to educate and communicate and above all we the victims must be able to share our experiences in order to inspire girls to reject this practice. Then we can help mothers to protect their daughters and nations to put in place the financial and material support needed to treat victims, protect at-risk girls and put the perpetrators in jail.
AHA Foundation: How can people help you and other brave survivors in this fight?
Bayor: I need financial help for my campaigns and activities here in the United States and in Chad. I especially need help to publish my book in English and to make my song, which I wrote to pay tribute to the survivors and to those who have died as a result of female circumcision.
You can support survivors and activists by raising awareness. Share our stories, spread the word, contact your legislators. Every voice added to this fight makes a real difference.
---
---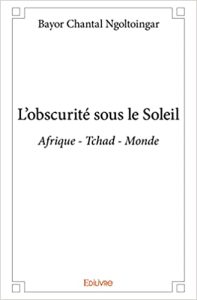 ---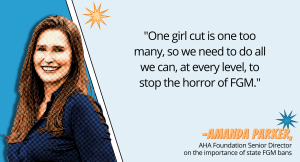 ---
More on FGM: