Dear Friend,
Being able to live a life free of abuse and oppression will always be one of the biggest blessings I've received in my life. I speak of this blessing to my children and family at our Thanksgiving table every year. For those of us who have experienced oppression, freedom holds a very special place in our hearts. We know how fragile it is—which evokes a sense of responsibility to keep it strong and alive.
In our first blog this month, Jenn tells her harrowing yet inspiring story of being married as a child to an abusive older man and surviving. She went on to fight for the outlawing of child marriage in Massachusetts. Like me, Jenn knows what it is to be unfree, and her dedication to helping save children from this abuse is uplifting.
Also this month, we spoke to Representative Kay Khan of Massachusetts, who is sponsoring a bill to ban child marriage. She tells us why she is passionate about this issue. Like Jenn, she has a sense of responsibility to her fellow Americans and embodies the spirit of generosity that makes this country great.
Both Jenn and Rep. Khan have been fighting to see this bill passed for 4 years now. Originally introduced in 2017, they refused to give up and just this week, H1709/S937 was heard for the first time in the joint judiciary committee, where AHA Foundation staff testified on the importance of banning this human rights abuse. Read the written testimony we submitted here.
Meanwhile, my heart goes out to the victims of Islamist attacks in Norway and the U.K. last month. I wrote about the murder by an alleged Islamist of Sir David Amess MP for UnHerd. To defeat this dangerous ideology, we must unite and strengthen the voices and ideas of Muslim reformers and ex-Muslims. Because of your support, we can work to accomplish that through our campus program.
AHA Foundation exists to spread the blessings of freedom to those in the U.S. who do not yet have them. Above all, this Thanksgiving, I am grateful to you—because your support allows us to work tirelessly for women and girls' rights. If you haven't had a chance yet, please stand with us by sending a gift today.
I wish you and your loved ones a lovely Thanksgiving,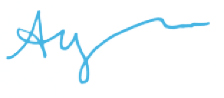 Ayaan Hirsi Ali, Founder