by AHA Foundation Executive Director
It has been more than a year since I took over as Executive Director at the AHA Foundation. The one-year mark in any new job is always an opportunity for reflection.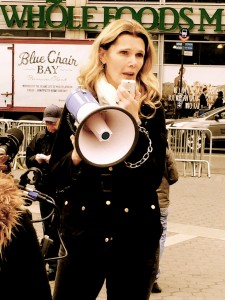 I love my job! I am fortunate that my career allows me to fight for social justice and women's rights, something I am incredibly passionate about. Working with a courageous woman like Ayaan makes my job even more satisfying. Every day at the AHA Foundation I am reminded why the work we do is so important: either by helping a girl who reached out to the foundation for help or training service professionals such as police officers to understand honor violence so they can better protect the girls at risk, I know we are helping save lives and making a steady progress toward ending honor violence. That's really what keeps me motivated even when we face challenges.
In taking this job following years of working on women's empowerment programs overseas, I am surprised to find that in the U.S. there isn't wider recognition of the issues of honor violence, forced marriage and female genital mutilation. Data is not being collected systematically on honor violence because law enforcement and frontline service providers are not trained to recognize the problem or deal with survivors. I've met many people who are shocked to discover that honor violence happens in the U.S. Compared to the Europeans, who have legislation and programs in place to address honor violence, we really have a long way to go!
Even though I have worked with survivors of sexual and gender based violence over the years I am still saddened by the stories I hear from survivors. A few months ago, I attended a White House briefing on forced marriage for the Council on Woman and Girls and found myself fighting back tears as I heard intelligent women talk about their own experiences in forced marriages. Many of them spoke of being forced or coerced into a marriage they didn't want because that's what their families expected them to do and then struggling to find ways to get out of a situation that amounts to being raped on a regular basis. Many of these women have gone on to speak out and work directly with survivors. I have tremendous respect for these women.
Because we are such a small organization, I've been fortunate enough to personally meet many of our donors. I love hearing what motivates them to give to the AHA Foundation, especially men who express that women's rights are important to them or they want to see more Ayaans in the world speaking out about injustices. I am also deeply impressed with our supporters who are prepared to take action – organizing events on their college campus, starting an AHA Book Club or signing Ayaan's petition. It's a reminder that we're not alone in this fight
From women who are fighting to survive abuse, to women who are survivors and are now helping other girls, to supporters who give their time, voices and donations to the fight, there is a legion that is dedicated to one goal. Together, we can and will bring an end to honor violence!