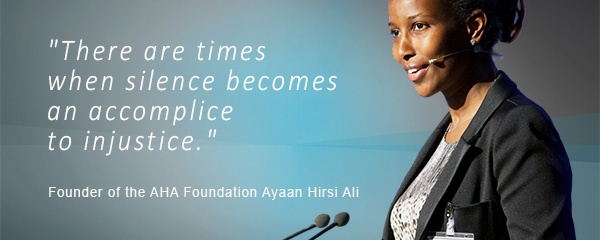 Dear AHA Foundation Supporter,
In my op-ed The anti-woman violence feminists are afraid to confront, published in the New York Post last week, I call on the women's movement to advocate on behalf of all women rather than just their political bedfellows, in order to protect those women and girls at risk of female genital mutilation (FGM) and other dangerous traditional practices.
The fight against female genital mutilation and child marriage is taking place across the nation with legislators discussing the need for state legislation. Increasingly, these discussions have become polarized and party line driven. Representative Chang from Michigan reveals how she worked with colleagues from both parties to successfully draft and swiftly pass the most comprehensive anti-FGM state legislation in the nation. Read her interview here.
Our message to legislators who are still questioning the need for state legislation is this: act now to protect the girls in your state. Do not wait for the news to reveal that girls have been cut in your state to decide to work with colleagues across party lines to stop FGM, a United Nations recognized human rights abuse.
Does you state have anti-FGM legislation? If it does, is it strong enough? Find out whether your state protects girls from FGM on our new interactive map, found here. 
For an insight into reasons behind slow action to stop FGM, read our report Why we hesitate to protect girls from FGM in the United States.
Should FGM be allowed in the United States in a less-intrusive way, in the form of a 'ritual nick?' Two medical doctors, a psychologist, and an FGM survivor explain here why, based on their expertise and experiences, zero tolerance for FGM is the only way to ensure the safety of girls. And why any other option opens the door for child abuse.
My dear supporters, thank you for everything you do to keep the movement against FGM strong and alive!
Ayaan Hirsi Ali, Founder