In most of the states where AHA Foundation works, we see unanimous support for outlawing female genital mutilation (FGM). The roadblocks and push backs that often take years to resolve come up when legislators disagree on the details they deem critical for a bill to protect women and girls. For Indiana Senator Elizabeth Brown, those details were nonnegotiable.
---
In modern politics, it is almost unheard of to pass legislation without any opposition. But when Indiana Senator Elizabeth Brown brought an anti-FGM bill to the table, there was no pushback. In an interview with AHA Foundation, Brown describes how FGM came to her attention and how she displayed the urgency of the issue to her colleagues.
AHA Foundation: When and how did FGM first come on to your radar?
Elizabeth Brown: Although I had read accounts of FGM abuse and was horrified, when AHA Foundation reached out to me about the gravity of the issue in Indiana, their informative correspondence prompted me to take action. 
AHA Foundation: At AHA Foundation, we know how crucial it is to get bipartisan support in order to pass effective legislation on FGM. After you introduced the bill, Democrats signed up as co-sponsors. How did you galvanize support from both sides of the aisle?
Elizabeth Brown: Because this is not a partisan issue, no one questioned the need to pass the legislation or the motives behind it. AHA Foundation did an excellent job preparing me on the important reasons to pass this legislation, and I was able to share that with my fellow legislators. It was heartening to see our full General Assembly come together on an issue that matters to all Hoosiers. 
AHA Foundation: And that's how it should be! But it's crazy that sometimes protecting women and girls can become partisan. Through this process, did you encounter other difficulties when trying to pass this bill?
Elizabeth Brown: Because so much of our focus was on COVID-related legislation, one thing that needed to occur was to emphasize to committee chairs in both the House and Senate why this bill deserved priority to pass and why it couldn't wait another year. The chairs were obviously receptive and the bill passed easily.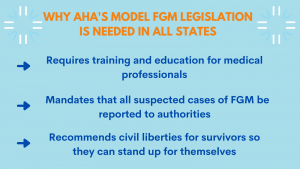 AHA Foundation: Indiana's anti-FGM bill is now one of the strongest in the entire country. How did you accomplish this? Why did you feel that it was important to get every detail of this bill the same as AHA Foundation's model bill?
Elizabeth Brown: I appreciated AHA Foundation sharing legislative language. I worked very closely with our Legislative Services Agency on the bill draft to ensure the language was consistent with existing Indiana law.
AHA Foundation: Was there anything you heard from your constituents that helped you decide to push this bill ahead with more urgency?
Elizabeth Brown: As I shared information about the legislation with my constituents, I heard positive feedback, affirming the need to pass the legislation. 
           More on FGM:
AHA Foundation: What would you say to the other state legislators who are yet to pass a similar bill? Do you have any advice for them on how to get the ball rolling?
Elizabeth Brown: It is an uncomfortable topic, so I know many may hesitate to bring this legislation forward, particularly if you have not heard about this issue from women in your district. But, it is a problem, and by bringing legislation, you shed light on it, which is important too. In addition, if you have the courage to introduce this legislation and get a hearing, you will be successful in getting it passed, because no one can oppose outlawing such a horrific practice.
AHA Foundation: Senator Brown, thank you so much for taking time out of your busy schedule to speak with us and again, congratulations on this huge victory.
Elizabeth Brown: Thank you for all your help along the way. It was my pleasure!