Published 12/07/2021
AHA Foundation is proud to announce that our groundbreaking online training program for combating female genital mutilation (FGM) has been endorsed by the American Medical Association (AMA) and is now available for the AMA members on their Education Hub—see here. 
We spoke to Dr Jodi F. Abbott, Medical Director for the AMA Education Center and associate professor of obstetrics and gynecology at the Boston University School of Medicine, about her work with the AMA, our program, and the need to combat the harmful practice of FGM.
---
 AHA Foundation: How did the AMA become interested in adding an online training program for FGM?
Jodi F. Abbott: Now, more than ever, the AMA is focused on achieving health equity, which means equipping all physicians with the education, tools and resources to confront inequities. In fact, education is an important part of our official policy on female genital mutilation. 
Not only does the AMA condemn this harmful procedure and support legislation to eliminate it, but we're also committed to raising awareness. We believe medical students, residents and practicing physicians need to know about FGM's continued practice and existence in the U.S. By featuring education from the AHA Foundation on AMA Ed Hub™—our platform that brings together high-quality education from trusted sources—we're better able to meet this goal. The training program will help medical professionals understand FGM and engage with survivors and those at risk of FGM in a culturally sensitive way.
As an educator, I know it's vital for physicians to understand [FGM] and its health risks—even when perpetrated in the U.S.—and how to protect at-risk women and girls."
AHA Foundation: When did you personally learn about FGM and its prevalence in the U.S.? Were you shocked to learn about it?
Jodi F. Abbott: In my work as an ObGyn who cares for women who have immigrated to the U.S., I've had knowledge of FGM since my early training. But I'll always remember my first patient who had experienced FGM. 
I met her in the preoperative area, as she required an examination for persistent vaginal bleeding and was unable to tolerate a pelvic exam in the office. After performing deinfibulation in the operating room [a surgical procedure carried out to re-open the vaginal introitus of women living with type III FGM] this young woman was diagnosed with a late-stage cervical cancer. This diagnosis was particularly devastating because through standard gynecological care (vaginal exams and pap smears), this young woman could have been able to save her own life.
It wasn't until many years later, however, that I understood the prevalence and full impact of FGM. As an educator, I know it's vital for physicians to understand this condition and its health risks—even when perpetrated in the U.S.—and how to protect at-risk women and girls.
AHA Foundation: What is the AMA hoping to accomplish with this online training? What is its importance to those who are at risk of, or have undergone, FGM?
Jodi F. Abbott: Our goal is to remove barriers of discomfort, lack of information and resources regarding FGM so providers can effectively care for affected women and at-risk families. It's only through this training, and what I've learned from AHA Foundation, that I've realized how important it is to view FGM as a social and family-centered health condition. 
Having health care providers understand what FGM is, as well as its implications, can be transformative for women and girls who haven't felt comfortable mentioning it to their physicians. It can be life-changing for these patients—or even life-saving—to have a physician advocate to prevent this harm.
AHA Foundation: What kind of other online trainings does the AMA offer and who are they targeting? 
Jodi F. Abbott: The AMA Ed Hub is a one-stop shop for online education from the AMA, JAMA Network™ and many other external content providers such as the American College of Radiology, Stanford Medicine and now AHA Foundation, among others. Activities span a range of topics, appear in various formats (podcasts, video, interactive modules and more) and allow health professionals worldwide to earn a wide variety of CMEs, CEUs and MOCs [continuing education certificates for physicians]. 
We offer clinical trainings (e.g., opioids/pain medication); professional development (e.g., leadership, quality improvement); as well as professionalism education (e.g., gender harassment prevention, fostering well-being). Our education is developed for physicians across the educational continuum—students, residents, physicians—as well as for allied health-care professionals. 
AHA Foundation is the perfect collaborator to bring this education to the wide audience of the AMA Ed Hub." 
AHA Foundation: How do you decide which trainings to offer, and why did you deem ours important?
Jodi F. Abbott: Ultimately, we want to provide education that helps improve care. This means seeking out high-quality education by the most qualified experts—curricula that center equity and the voices of communities in their development. 
FGM is a topic that requires authenticity in its narrative, as well as a deep understanding of trauma-informed care. When the AMA Ed Hub was founded, we were conscious of some of our content gaps, including women's health, especially as it pertains to Black and indigenous, refugees and immigrant women. So, we set a goal to seek out content experts to collaborate with and fill this knowledge gap. AHA Foundation is the perfect collaborator to bring this education to the wide audience of the AMA Ed Hub.  
AHA Foundation: How do you make sure doctors and other health-care officials who need to see this actually do? How can we and AHA Foundation supporters help you in that?
Jodi F. Abbott: The AMA convenes 190+ state and specialty medical societies and thus reaches a very broad audience. Also, AMA medical student members put FGM education into their priority goals this year, and they'll help amplify this education to their own schools, health centers and communities. The AMA Ed Hub Health Equity Education Center provides additional opportunities for learners to discover equity-related content, including AMA-developed content from our Center for Health Equity. We would greatly appreciate it if AHA Foundation supporters can help by sharing relevant AMA Ed Hub pages, including health equity education, within their networks.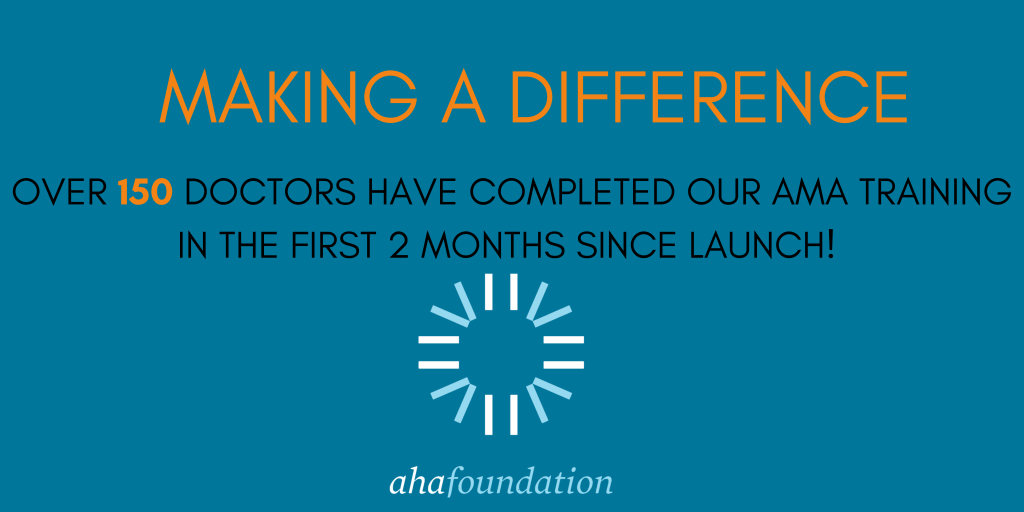 More on FGM:
Kentucky Survivor Breaks Silence About Genital Mutilation
Take Action: Demand Zero Tolerance for Female Genital Mutilation in the U.S.
Indiana State Senator Elizabeth Brown Passes A+ FGM Legislation in Her State
Our Reaction to the First Federal FGM Case Dismissal: We Lost a Battle, But Are Resolute in Winning This War