At the age of 16, Shagufa, then living in Afghanistan, was forced into a marriage with a man twice her age. Even before the marriage, Shagufa knew this was not the life she wanted. This is the story of how she fought for freedom and built a different life for herself.
Below is Shagufa's story as told to Dylan Webber, AHA's Communications Assistant. Her story was edited for length and clarity.
---
Through strength, persistence, and defiance of cultural norms, Shagufa was driven to pursue her own life, not the one that her society expected of her. From an early age, she knew two things—she wanted to complete her education, and she didn't want to be forced into marriage at a young age.
But the latter was hard to avoid. At the age of 16, Shagufa was forced into a marriage with a man twice her age. In an attempt to stay in school and continue her education, she fled from her husband several times. Her fight for freedom to chart her own life path was years in the making. Now in America looking to further her education, Shagufa spoke with AHA Foundation about the challenges of her forced marriage, how she escaped, and how she hopes she can fight forced and child marriage in the future.
Shagufa on Her Early Childhood in Afghanistan During Taliban Control
I was born in Afghanistan into a family of seven girls and four boys, and I'm the youngest. At the time I was born, in 1995, my family was living in a very deep poverty. We were suffering a lot, and I didn't know that at that time. But when I grew up, I learned that my dad was disabled during a war. He was injured and he couldn't work anymore. 
When I was six years old, we were not going out because it was not secure to go out. That was during the Taliban regime. Women were not allowed to be in the market, they had to wear hijab. But when the Taliban regime collapsed, the war started and we had to leave the city to go to the village to be more protected. After we came back to the city, after two or three months, the Mujahideen were in power and schools started to open after one year.
At that time, my dad didn't want us to go to school, because he was conservative and he wanted us to stay home. Going to school was not a good idea because it was considered a shame that a family let their daughters go, but I always wanted to go. My sisters helped me enroll in school and when I started going, I didn't tell my dad. 
Shagufa's Dreams for Her Future Go Against Her Parents' Expectations
Getting a complete education was always a goal of mine. And when I was seeing my exam results were improving every year, those numbers were everything to me, because, you know, these are not only numbers, they were my time, motivation and everything that I'm doing. But unfortunately, in my family, it was not seen like that. 
I always wished that one day my parents would be proud of my grades. But it never happened because education was not something prioritized by my family. It's like, oh, okay, you go to school, okay, but the role of a woman is to marry, take care of the family, have babies. And another thing was, they see girls as money, like they are a good income for the parents. They did not see that if I continue my education, I will get the tools that I myself can be financially independent.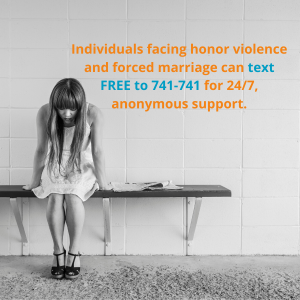 When I was in ninth grade, my family was suffering from poverty and my parents put me into marriage. Their decision to marry me off was very hard on me. It felt like they were turning all my dreams down. I was like, "No, I'm 16 years old and that person is almost twice my age!" I was not ready, I had to finish my school. I really wanted to continue my education. I was one of the top students, and I received offers to study abroad. I received two or three offers to go to either India or Turkey to continue my undergrad. But my family didn't want that. And it was not granted that my husband is going to let me go to school, or that he is going to be supportive. 
Living in a Forced Marriage
I was not really with him for long. I was escaping his home, and was back and forth for about a year, between there and my family's home. I escaped his home three or four times, but my family kept sending me back. That was a very really big sign to me, kind of telling me that my family was not supporting me.
My parents were more supportive to the man's side, rather than my side. They were saying that for example, if you stay longer with him, you're going to get care, or if you have a child, you know, a child is going to bring more peace, but I resisted.
My parents would accept me temporarily for a week and then would call him to take me back. And during the time I was at my parents' house, it happened several times, I tried to do suicides at his place and my parents' house all because my parents were sending me back and he was practicing violence. Literally, my parents would call his family and would say, 'Take her.' 
If you or someone you love is contemplating suicide, please reach out to the Suicide Prevention Hotline: 

1-

800-273-8255
Poverty was not allowing my parents to accept me back. They thought if they accept me, it means one person is added in our family, which is a cost. And another thing is that to our relatives, it looks bad. When your daughter is married, then gets a divorce, they see it as a shame.
But I was seeing my life very different from what my culture wanted. I wanted to continue my education. I didn't even have marriage in my thoughts.
Even throughout that marriage, I was still going to school. But it was in a way that some days I had to stay home, because when we had arguments, he would say, "You're not gonna go to school." So I had to stay home. So it happened that I tried to break out. 
And I knew for a while that that life was not the one for me. From the time that I was six or seven, I started observing that my parents were never happy. My parents had never been happy, because they had also had a child marriage. My mom, she was 11 when she married and she was 12 when she had her first baby. They were always arguing, and I always hated that. I always hated to see them when they argued. 
They wanted me to also marry at a young age and I knew that if I hate that person, I'm going to be like my parents. And I didn't want that life. And I didn't believe what my mom was telling us, that because we are poor, it means every one of us is going to be poor and we are always going to suffer. I always wanted to change that illusion. 
When I was at my parents' house, my husband tried several times to wait for me on the way to school and kidnap me and I had to run away and he screamed so that people could come around. I believed that I'm going to rescue myself from this situation one day, and I'm going to do something different.
Golf is what put me on that path. 
A Path to Freedom
It started one day when I was walking towards school and I saw golf advertisements. So I went to the place they advertised, and it was very new in my city as well. But I told them that I was interested in participating, so they accepted me. This sport was the main thing that changed my life.
Holding the club and also the ball and standing in a position to focus on the ball and doing the swing to hit the ball to the target, it was something life-changing for me. This sport needed me to focus on one thing, and see the farther. 
The other thing was that, anytime when I was with my family, we were talking about negativities, how poor we are, and always having conversations that pulled us back. But when I was with the team, we never talked about those things, we always tried to have fun, we always learned how to improve our game. It was an opportunity for me to be away from those negativities for some time.
I never told my parents about playing golf. And at that time I had to wear a long hijab. In Afghanistan, because our team manager is a man, and it is always kind of a shame for a girl to stand in front of a man and practice something—, you feel uncomfortable as a girl. Having to focus on what you were wearing was always a huge distraction. It was also too hot to be wearing these heavy outfits with the sun shining. But you had to do it for your religion and keep yourself safe from society. 
After one year, my golf team managers recommended that I play in a tournament, and, after a fair amount of practice, they selected one person off the team, which was me, to go to Bangladesh for the tournament. It was like the turning point—I was given a chance to travel from Afghanistan to another country. And it was a big, big decision that I had to hide from my parents, and at the time I was married. 
But when I played in Bangladesh, I was not feeling insecure. I was not feeling that it was bad that a guy was looking at me. I was only thinking about how to concentrate on my playing.
Traveling to Bangladesh was a turning point because there I realized that the life that is in Afghanistan, is not the one I belong to. I belong to move further. So when I went to Bangladesh, I was curious about the education opportunities. I heard about the university called Asian University for Women that gives full scholarships for students with good grades. Two weeks after, when I returned to Afghanistan, I just applied. I didn't tell my family. Three or four months later, I got my visa and I left my country to attend this university.
Shagufa Pursues Her Dreams 
When I left Afghanistan, that was the climax of my life. I had to first find out how mentally I can handle not being with my parents, not being with my sisters, not being with anyone. And, you know, I was the youngest daughter of my family, and I always loved to be with my parents. I was very connected to my mom. But I had to find out how I can handle my emotions. 
I never told any other people about my background, about how much fear I carried from Afghanistan with me and how I escaped my home. But I told my professor how I can't really trust anyone to tell about this. He advised me to write about my experiences and I really listened to his advice. And when I wrote that, I think it was something that helped me to see my experience as a history and not like feeling that I've been through all of those things. I still had the fear that what if that person comes from Afghanistan looking for me. But with the passing, I think I could overcome that. 
Also, my professor advised me to continue playing a sport and focus on my motivations. So I participated in running marathons, and I participated in basketball. And then I initiated a golf team in my university for the first time. It was one of the first universities that had a golf team. 
This was life-changing—I was doing something that I wanted. If at the time I was in Afghanistan, and I said to my parents that I wanted to initiate a golf team or I wanted to do this, no one could see that. But I loved when I was in university, and everyone said go ahead, that's a good idea. They were always encouraging me. 
And then, for example, in 2018 I wanted to travel and I wanted to do some international internships. So I got an internship at Boston Medical Center. So I think just leaving Afghanistan, and I'm not saying that Afghanistan's society is bad. But that society doesn't want us to be the person we want to be. It needs improvement. When I left that society, I could do the things I wanted and I could see myself getting bigger and bigger.
Shagufa on Her Plans for Future 
I have short-term goals and long-term goals. For the moment, my short-term goal is that I have to do my grad school. I want to be an economist to create projects that help developing countries and increase employment opportunities for women back in developing countries. 
I'd also like to work in the World Bank, the United Nation or in an athletic association that's working toward different projects for women. But in the long term, I want to have my own foundation, that's called "Women, Leadership and Sports." I want to use three tools, leadership, sports, and self-actualization, to help empower girls in developing countries. If they evolve in a sport, and if they know who they are, they can learn how to be economically independent. 
I left Afghanistan with no money. I left Afghanistan, because of education that helped me get a full scholarship. So there are millions of girls that have that talent and they can continue their education, they can help their family. I also want to focus to how to end child marriage because the societies like Afghanistan, they see child marriage as a norm. Child marriage is a way for many families in these societies to earn money when they marry off their daughter. They say for this girl, the bride price is $10,000. $10,000 is a lot but that is a temporary income. But if they let their daughter go to school, get the tools to be successful, in the future, she is going to be a long term money earner for her parents. So that's what I'm thinking my foundation should focus on when addressing child marriage.
---
A huge thank you to Shagufa for speaking to us about her journey. We have no doubt that her story and voice will help show other girls that they have the right to plan their own futures.
           More on Child Marriage: