Dear AHA Foundation Supporter,
I would like to use this issue of our newsletter to provide an update on our Call for Essays and my book tour. But I would also like to draw attention to female genital mutilation (FGM) and a practice called "vacation cutting."
Each year, many parents take advantage of the summer holiday to transport their young daughters back to their family's country of origin to have them undergo female genital mutilation. This month, we begin a discussion that we'll continue throughout the summer on this disturbing practice, the reasons it is carried out and what the AHA Foundation is doing to protect girls from this terrifying, life-altering experience. I encourage you to give to the Foundation as we fight to eradicate harmful practices such as FGM in the US.
I also want to thank you for your essays. I have personally been so touched by the responses we received from our first ever Supporter Call for Essays, particularly in the way so many of you have been a positive force for change. Last month, we shared with you the essays we chose as the top three. This month, we wanted to continue the momentum by publishing our favorite quotes from additional essays. I know these intimate accounts will move you just as they did each of us at the Foundation. I hope they will also serve as inspiration for action in your own lives.
This summer is also the season where I close an exhilarating but exhausting chapter in my life – the book tour for Heretic. I've been so grateful for the warm reception I've received both at home in the US and more recently in Canada and Europe. It's also given me the opportunity to bring attention to the honor violence I am sad to see in each of the countries I have visited during the tour. This month, we highlight a few of the notable press clippings from the international leg of the book tour, including a conversation with someone who has certainly inspired me with his courage and his unwavering support for freedom of speech, Denmark's Flemming Rose.
Thank you,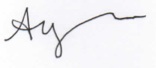 Ayaan Hirsi Ali
Founder, The AHA Foundation